Useful Links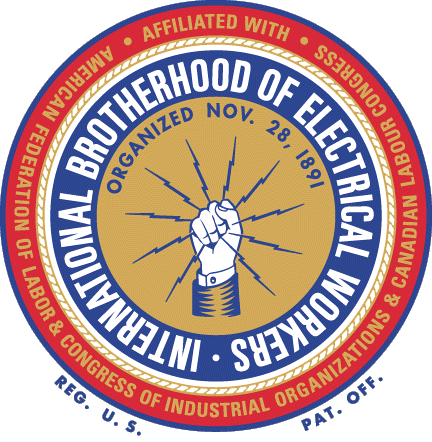 International Brotherhood of Electrical Workers (IBEW) – The International Brotherhood of Electrical Workers (IBEW) represents approximately 750,000 members who work in a wide variety of fields, including utilities, construction, telecommunications, broadcasting, manufacturing, railroads and government. The IBEW has members in both the United States and Canada and stands out among the American unions in the AFL-CIO because it is among the largest and has members in so many skilled occupations.
www.ibew.org
---

National Electrical Contractors Association (NECA) – The National Electrical Contractors Association is the voice of the $100 billion industry responsible for lighting, power, and communication systems in buildings and communities across the United States. NECA's national office and 120 local chapters advance the electrical contracting industry through advocacy, education, research, and standards development.

www.necanet.org
---

IBEW Hour Power – IBEW Hour Power is the online magazine connecting IBEW members.
---

National Joint Apprenticeship and Training Committee (NJATC) – The finest electrical workers in the country receive their training through the National Joint Apprenticeship and Training Committee of the National Electrical Contractors Association (NECA) and International Brotherhood of Electrical Workers (IBEW). NJATC is a model education partnership which produces the best-trained, most up-to-date electrical apprentices and journeymen in the country.
---

The Quality Connection – The Quality Connection is a publication of the National Labor-Management Cooperation Committee of the electrical construction industry. TQC was created to provide information on what is happening in the electrical contracting industry, and to report NLMCC activities, to all IBEW members involved in electrical construction and to their employers.
---

Electric TV - ElectricTV, a streaming video-based website, is a jointly funded effort of the National Electrical Contractors Association (NECA) and the International Brotherhood of Electrical Workers (IBEW). Its mission is to provide an on-line TV station source that will provide interesting news items and stories from the electrical and information industry, as well as an occasional story from the construction industry in general.
---

Below is the link for checking your Certification through the Wisconsin Department Of Commerce. Through the Wisconsin Department of Commerce you will be able to keep track of your continuing education requirements needed for renewing your electrical certificate.
http://apps2.commerce.wi.gov/SB_Credential/index.jsp
---

National Labor College (NLC) is one of a kind, the only college in the United States with an exclusive mission to serve the educational needs of the labor movement.
http://www.nlc.edu/nlc-start/start.html
---

Next time you have a buying decision to make, take a moment to think about the kind of Wisconsin you want to live in. Do you want your hard-earned dollars to leave the state and go into the coffers of some multi-national corporation, or would you rather support your neighbors and invest in your community? For working families, the smart choice is to Buy Wisconsin.
---
LU 124 Where to Go
Kansas City, MO LU 124 Has a web page devoted to information about available work around the country.
http://www.ibewlocal124.org/Referral/Where_to_Go.html
---
Unfilled Calls
If you are on Facebook a great tool to use is the unfilled calls page. Please follow the link below to access this great resource!
https://www.facebook.com/stew8687
---
Union Boot Pro
This year, 2017, we launched our NEW Union Loyalty Rewards Program at TheUnionBootPro.com with tremendous support from union members. Our customers have let us know they are pleased to find MADE-IN-USA products on one website for the working person including: American made, union made Thorogood work boots, KGS Boot Care, Wigwam socks and hats, Powstep insoles, and more.
---
Page Last Updated: Dec 18, 2017 (09:26:01)